INTRODUCTION
The one stitch mini facelift is ideal for individuals who do not feel that they need or want a full face lift, but have noticed changes to their faces (like sagging skin in the lower face) that they would like to alter.
The procedure is less invasive than that of a full face lift and can be carried out under local anaesthetic which reduces many of the risks associated with surgery. It has more subtle results than a face lift yet uses a similar technique to achieve a firmer appearance. This procedure takes approximately forty five minutes to perform and recovery is quick. Patients can usually return to work within 3 to 7 days.
I was first introduced to the idea of the technique by Mr Paul Levick, a Plastic Surgeon colleague of mine who had used it for many years in retightening facelifts. I then came across a modification of the technique by Dr R Calambria, a Beverly Hills Plastic Surgeon who made use of the skin that is normally discarded to provide a stronger and more lasting effect.
I have since modified it myself by using a barbed suture(thread) which provides better tightening of the skin without the need for knots. This allows easier stitching, less puckering and fewer problems with the knots from traditional sutures.
When combined with Botox to lift and smoothen out lines in the upper face, and dermal fillers to replace volume loss in the mid face, the one stitch mini facelift can produce a more dramatic facial rejuvenation. This combination is the closest to an effective non surgical facelift.
Mrs Kat was invited to speak on the one stitch mini facelift at the inaugural meeting of the European College of Aesthetic Medicine and Surgery(ECAMS) in November 2013. The meeting was held in the beautiful city of Barcelona where she had the opportunity to exchange ideas and learn from colleagues from around Europe.
Interest in the technique was keen and we have had many requests for visits to the clinic to observe the surgery. Mrs Kat continues to modify the technique and have developed the
two stitch mini facelift
to give a longer lasting effect.
Before One-Stitch Mini face lift
After One-Stitch Mini face lift
Before One-Stitch Mini face lift
After One-Stitch Mini face lift
ONE-STITCH MINI FACELIFT PROCEDURE
| | |
| --- | --- |
| Operation time | 45 mins |
| Anaesthesia | local anaesthetic |
| Nights in hospital | 0 |
| Risks - common | bruising, swelling, temporary numbness, temporary skin irregularity |
| Risks - uncommon | infection, bad scarring, asymmetry, bleeding, permanent numbness, delayed wound healing, early re-sagging |
| Pain and discomfort | 1 day |
| Follow-up after surgery | 1 week, 3 months |
| Time off work | 0 - 3 days |
| Sports | 2 weeks - walking 4 weeks - everything |
| Result | 2 weeks until final result scars continue to improve over 18 months |
FEES
| | |
| --- | --- |
| One stitch facelift | From £4,162 |
| Two Stitch "Mini Facelift" | From £5,146 |
Arrange Your Mini Facelift Appointment!
PARTIAL FACELIFT SURGERY INFORMED CONSENT FORM
FACE LIFT
POST-OPERATIVE INSTRUCTIONS
Instructions on discharge
Hair can be washed as normal after the procedure.
Antiseptic ointment to be applied to the scars twice a day for 2 weeks.
Ice compress for the 2 days
Sleep with head slightly elevated on a few pillows for the first 2 weeks and avoid bending the head down..
Discharge with standard painkillers.
Dressing clinic
Usually about a week after the surgery to check on the wounds and at the end of the second week to remove the metal clips in the scalp.
Activities
No restrictions but avoid strenuous activities for about the first 2 weeks.
Wound care for first 3 months
Moisturise all scars for at least 3 months.
Moisturise face and neck religiously.
Avoid direct sunlight for the first 3 months.
IF YOU EXPERIENCE ANY PROBLEMS OR HAVE ANY QUERIES FOLLOWING YOUR SURGERY PLEASE DO NOT HESITATE TO CONTACT THE CLINIC.
What our Patients say
One-Stitch Lift Testimonials
"I had a mini face lift in April this year. I can't tell you how pleased I am with the results. I have lost count of the people who have told me 'how well you look'..."
A. H.
"I had a blepharoplasty and One Stitch Facelift mid 2012 by local anaesthetic with Mrs Kat. I am delighted with the result and the staff..."
Mrs G.
Before / After Pictures
One Stitch Mini Face Lift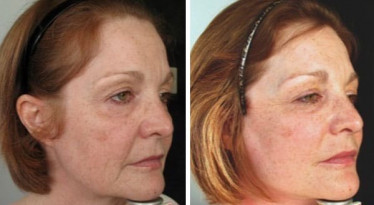 45-54 year old woman treated with 1 stitch mini Facelift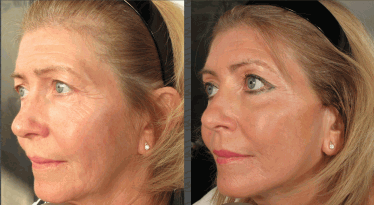 45-54 year old woman treated with 1 stitch mini Facelift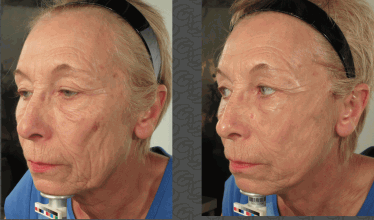 45-54 year old woman treated with 1 stitch mini Facelift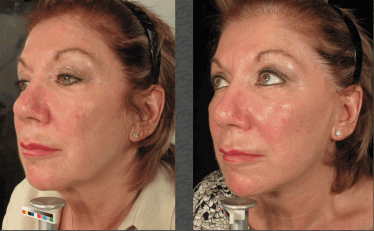 45-54 year old woman treated with 1 stitch mini Facelift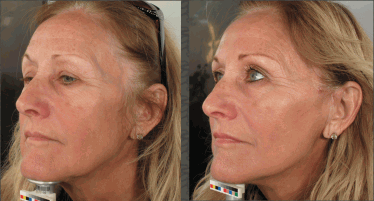 45-54 year old woman treated with 1 stitch mini Facelift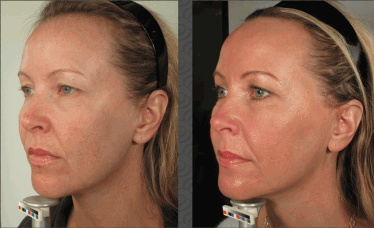 45-54 year old woman treated with 1 stitch mini Facelift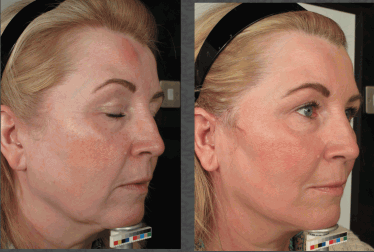 45-54 year old woman treated with 1 stitch mini Facelift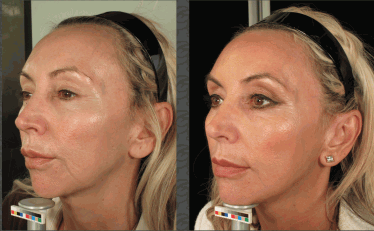 45-54 year old woman treated with 1 stitch mini Facelift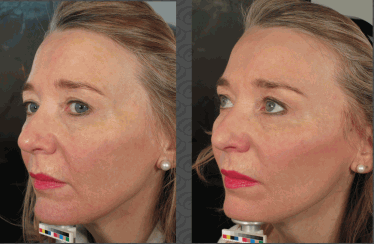 45-54 year old woman treated with 1 stitch mini Facelift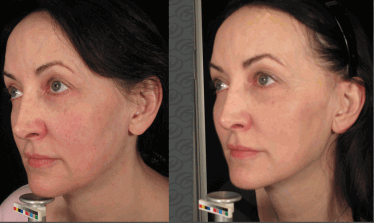 45-54 year old woman treated with 1 stitch mini Facelift