EARLOBE CORRECTION
Surgery can alter the size and shape of the earlobe to attain a more aesthetically pleasing proportion. This treatment can be carried out under local anaesthesia at our day surgery facility.
The surgery is relatively straightforward and is conducted under local anaesthetic. The old ear hole is completely cut out to create 2 raw surfaces that can be stitched together in 3 layers. The scar may be a straight line or a zig-zag line to reduce the risk of notching of the ear lobe edge.
The stitches are dissolvable in the back of the ear and non-dissolvable in the front. The whole procedure takes approximately 20 mins for each side.
You will have minimal pain for a day or 2. Paracetamol can be taken if necessary. Follow the following post operative instructions to avoid excessive bruising or swelling. You can return to normal activities the next day, avoiding anything strenuous for 2 weeks. The scar will remain red for a few months but generally settles vey well. The ear can be re-pierced 3 months after surgery.
SPLIT EARLOBE PROCEDURE
Operation time

0.5 hrs

Anaesthesia

local

Nights in hospital

day case

Risks - common

bruising, swelling, temporary numbness

Risks - uncommon

infection, excessive scarring, asymmetry, bleeding

Pain and discomfort

1 day

Follow-up after surgery

1 week (stitches removed), 3 months

Time off work

1 day

Sports

2 weeks - jogging
4 weeks - everything

Result

2 weeks until final result
scars continue to improve over 18 months
ears can be re-pierced at 3 months
FEES
| | |
| --- | --- |
| Split Earlobe Correction (Both Ears) | From £2,142 |
Arrange Your Split Earlobe Correction Appointment!
OTOPLASTY INFORMED CONSENT FORM
SPLIT EARLOBE CORRECTION
POST-OPERATIVE INSTRUCTIONS
Instructions on discharge
The local anaesthetic will wear off approximately 1 hour after the procedure.
Paracetamol can be taken once the local anaesthetic has worn off.
If the surgery was to the head, sleep with the head slightly elevated on a few pillows for the first week and avoid bending with the head down.
No restrictions but avoid strenuous activities for the first week.
No restrictions but avoid strenuous activities for the first week.
The wound can be very gently washed and then pat dry.
IF YOU EXPERIENCE ANY PROBLEMS OR HAVE ANY QUERIES FOLLOWING YOUR SURGERY PLEASE DO NOT HESITATE TO CONTACT THE WARD.
What our Patients say
Split Hear Lobe Procedure Testimonials
"I would like to thank you for repairing my ear. It seems such a small thing but after 3 major operations in the last two years..."
A. M.
"I would just like to say a massive thank you to Mrs Kat for the wonderful job she has done. From the very first time we met she explained everything..."
E. L.
Before / After Pictures
Ear Lobe Procedure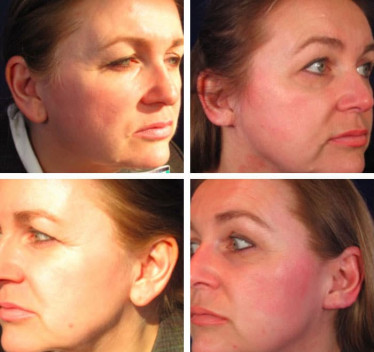 35-44 year old woman treated with Ear Lobe Surgery