MIDLAND'S FIRST
Breast Enlargement cosmetic surgery using patient's own fat
It's been an area of some controversy in the past but the general consensus, after examining all the available clinical data, is that the procedure is safe.
As the procedure is relatively complex, it should be performed by surgeons who are well versed in the technique and ideally carried out within a strict selection and treatment protocol.
We have been performing fat injection for the past 15 years mainly into the face for facial rejuvenation, into the breast as part of a breast reconstruction procedure and into the buttocks for enhancement and projection.
The idea of using this technique for breast augmentation has been very exciting and when the green light was given by the industry that it was safe, we were one of the first in the Midlands to offer the service
We started looking for an appropriate patient that fitted the criteria to be our first breast fat transfer patient and in November 2012 found an ideal candidate and carried out the procedure. Ms CJ was born with asymmetrical breasts. This is an ideal indication for fat transfer to the smaller breast to achieve symmetry. A breast implant would not have achieved a matching shape.
The patient is delighted with her larger right breast which is now symmetrical to her left, as well as flatter tummy and hips.
It is important for potential patients to realise that fat transfer is not a replacement for breast enlargement using silicone implants, which is still the best procedure for breast enlargement to achieve that two or more cup size increase. The trend now is of course to COMBINE FAT TRANSFER WITH BREAST IMPLANTS to achieve a more natural look particularly for thin individuals.
It is strictly for patients who do not want an implant and content to accept an increase in size of half to one cup size. You must have the available fat deposits of course!
Our opinion is that this is a procedure that will attract a huge amount of interest.
However for it to be successful, it needs to be performed on appropriate patients by experienced surgeons. Kat and Co intend to be at the forefront of this.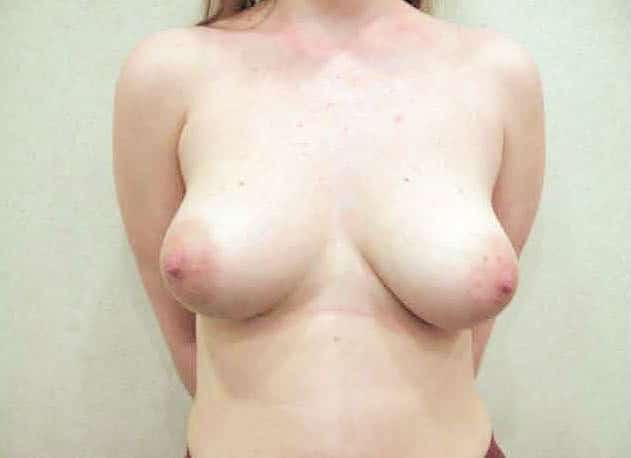 Slide left to reveal results after breast enlargement with autologous fat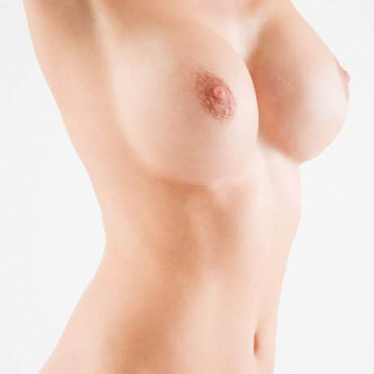 BREAST ENLARGEMENT WITH AUTOLOGOUS FAT PROCEDURE
| | |
| --- | --- |
| Operation time | 90 mins |
| Anaesthesia | twilight anaesthesia |
| Nights in hospital | day case |
| Risks - common | bruising, swelling, temporary numbness. (see liposuction for donor site risks), may require more than 1 session |
| Risks - uncommon | infection, asymmetry, bleeding, fat necrosis, oil cysts, benign calcification, difficulty with mammogram interpretation, excessive loss of fat cells. (see liposuction for donor site risks) |
| Pain and discomfort | 3 - 7 days |
| Follow-up after surgery | 1 week, 3 months |
| Time off work | 1 week |
| Sports | 2 weeks - everything |
| Result | 12 weeks until final result scars continue to improve over 18 months |
Visit our
FAQs page
for more information regarding the surgery.
FEES
| | |
| --- | --- |
| Breast Enlargement with Autologous Fat Transfer | From £5275 |
| Breast Enlargement with Breast Implants and Fat Transfer | From £8870 |
FAT TRANSFER PROCEDURES INFORMED CONSENT FORM
AUTOLOGOUS FAT INJECTION
POST-OPERATIVE INSTRUCTIONS
Instructions on discharge
The treated area will be swollen and bruised for 7-14 days depending on how large the treated area is.
Cold compresses can be used for short periods of time for the first few days, this will help with bruising and swelling. Do not use ice directly on the skin as it can burn, wrap it in a clean cloth first.
Do not press firmly or rub the affected area.
Clean area very gently with a mild cleanser, if the lips have been treated, lubricate lips with Vaseline.
Discharge with standard painkillers.
The donor site (where the fat was taken from) can be washed gently and then pat dry.
Dressing clinic
Appointment approximately 1 week after surgery when the dressing will be changed to a lighter dressing.
Usually one or two dressings after this when the wound will still need to be kept dry.
Activities
No restrictions but avoid strenuous activities for the first 2 weeks.
Sleep with head slightly elevated on a few pillows for the first week and avoid bending head down.
Wound Care
Moisturise scar after first 3 months.
IF YOU EXPERIENCE ANY PROBLEMS OR HAVE ANY QUERIES FOLLOWING YOUR SURGERY PLEASE DO NOT HESITATE TO CONTACT THE WARD.
What our Patients say
Breast Enlargement with Autologous Fat Testimonials
"From a very early age I have always been conscious of the size difference between my breasts. My right breast has always been smaller than my left..."
Anonymous
Before / After photos
Breast Enlargement with Autologous Fat photos
18-24 year old female treated with Fat transfer to right breast