Platelet Rich Plasma (PRP) Treatment Birmingham
Platelet Rich Plasma (PRP) has been in use in the various fields of medicine for more than two decades; it is widely used for the treatment of burns, wound healing, scars, orthopaedic surgery and plastic surgery for its healing properties. PRP therapy is extremely popular for hair loss and skin rejuvenation because it can restore and promote skin collagen production, as well as stimulating dormant hair follicles to increase hair growth.
PRP merges the body's own natural healing power with cutting edge biological technology to stimulate healing, reduce inflammation and decrease pain. is used in aesthetic medicine for its regenerative and rejuvenating properties. Specifically, PRP stimulates thickening of the superficial layer of the skin, encourages collagen restructuring and improves blood supply and cell regeneration.
The mechanism of action of PRP is different and produces a more subtle and gradual effect in reducing lines and improving tones and appearance of the skin.
How does PRP treatment work?
PRP is a simple, effective and safe treatment which works in 3 stages:
A small voume of blood (20ml-40ml) is drawn from your arm - the same as having a blood test.
It is placed into a centrifuge that separates the platelets from the rest of your blood for about 10 to 15 minutes. The resultant golden coloured liquid so derived contains a high concentration of platelets (hence 'platelet rich') with a high level of growth factors and bioactive proteins. Platelets are responsible for healing proteins (growth factors) which accelerate healing.
This plasma is re-injected or microneedled into the focus area (only the part of your blood that contains a high concentration of platelets). At Kat & Co, we offer PRP with SkinPen microneedling for dramatic results. Medical microneedling creates channels in the skin where PRP can be absorbed. Combined with the rejuvenating effects of microneedling, PRP enhances the results, rejuvenating your whole appearance.
This procedure is known to accelerate normal healing pathways and when injected into the skin it will stimulate and restore it. PRP treatments are very fast and have low pain and discomfort levels. Patients are able to return to thier normal activities on the same day of treatment.
Arrange Your PRP Appointment!
What can Platelet Rich Plasma (PRP) treat?
Platelet rich plasma therapy can be used to improve skin anywhere on the body. In aesthetic rejuvenation, PRP can be used either as a natural alternative to botulinum toxins or fillers or in conjunction with the two treatments to augment the effects. The main uses for this treatment are:
Ageing around the eyes
Lines/wrinkles around the mouth
Full face
Décolletage/neck/chest
Scalp for hair loss
Diminish acne scars when used with microneedling
The concentrated platelet rich plasma (PRP) is usually injected into and around the treatment area, where it works to start the body's natural healing processes. The PRP can be injected into the skin or used in combination with laser treatments and micro-needling.
What are the advantages of PRP?
As your own blood components are used and nothing is added, there is no risk of reactions.
It can be used on any area of skin – the main areas are eyes, face, neck, décolleté and scalp.
It can be used for the delicate skin both just below and above the eyes
Downtime is short, usually some puffiness or blotchiness for 2-3 days
How long will it take to see results?
You will start to notice initial improvements in skin texture, tone and radiance within four weeks but the regeneration of collagen takes a bit longer, around three months. New collagen will make the skin look and feel firmer and tighter!
We recommend 3 sessions spaced 4 weeks apart for optimum results.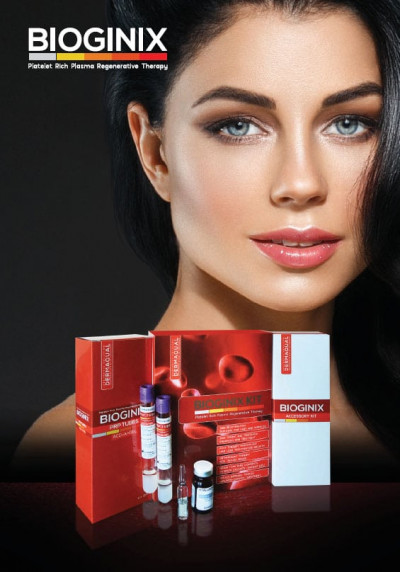 Platelet Rich Plasma (PRP) Procedure
| | |
| --- | --- |
| Operation time | 45 - 60 mins |
| Treatment Intervals | 3 sessions are recommended - 2 to 4 weeks apart |
| Risks - common | Redness, swelling (can be covered with mineral makeup) |
| Risks - rare | Excessive bruising, infection, bleeding |
| Downtime | 24-48 hours redness |
| Pain/Discomfort | Mild discomfort at the time of the procedure |
Visit our FAQs page for more general information regarding cosmetic surgery.
How much does PRP treatment cost?
| | |
| --- | --- |
| PRP Injection (Single Session) | £400 |
| PRP Injection (Course of 3) | £1,100 |
| Hair loss (Single Session) SMALL AREA (<10x10 cm) | £400 |
| Hair loss (Course of 3) SMALL AREA (<10x10 cm) | £1,100 |
| Hair loss (Single Session) LARGE AREA (>10x10 cm) | £600 |
| Hair loss (Course of 3) LARGE AREA (>10x10 cm) | £1,500 |
| Skin Rejuvenation with Skin Pen Microneedling (Single Treatment) | £360 |
| Skin Rejuvenation with Skin Pen Microneedling (Course of 3) | £900 |
Platelet Rich Plasma (PRP) Pre-Treatment Instructions
Discontinue the use of any anti-inflammatory drugs such as Ibuprofen or Aspirin around a week before your treatment. These can act against the healing effects of PRP and reduce the treatment effectiveness.
Make sure you discuss any prescription medicine with your therapist prior to treatment to ensure there will be no contraindications
Stop using any blood-thinning agents such as Vitamin E and A, Garlic, Cod Liver Oil, Omega Oils, etc.. at least 2 days before treatment, and continue avoiding these until a week after treatment.
We recommend that you try and avoid the following: Caffeine, alcohol, spicy foods and cigarettes for 2 days before and after treatment.
Platelet Rich Plasma (PRP) Post-Treatment Instructions
Avoid touching the treated area(s) for at least 8 hours after your treatment
If you are having a hair loss treatment, do no wash or take a shower for at least 6 hours after your treatment. Then only wash with water until 24 hours after your treatment.
Avoid any make-up, lotions or creams for 6 hours after your appointment.
Avoid strenous exercise and excessive sun exposure for 3 days after your treatment.
Avoid large amounts of alcohol, caffeine, and cigarrettes for 3 days after your treatment.
Maintain a healthy diet and drink lots of water before and after your treatment.