WHAT IS AN EAR CORRECTION?
Prominent ears often lack a normal fold, and sometimes one ear is more prominent than the other. People with prominent ears are sometimes teased, particularly during their school years, and this can affect self confidence.
Pinnaplasty is an operation which adjusts the shape of the cartilage within the ear to create the missing folds and to allow the ear to lie closer to the side of the head.
PROMINENT EAR CORRECTION PROCEDURE
Operation time

1 hr

Anaesthesia

Local/Twilight

Nights in hospital

Day Surgery

Risks - common

bruising, swelling, temporary numbness, temporary skin irregularity

Risks - uncommon

infection, excessive scarring, asymmetry, bleeding, permanent numbness, recurrence

Pain and discomfort

3 - 7 days

Follow-up after surgery

1 week, 3 months

Time off work

1 - 2 weeks

Sports

2 weeks - walking
4 weeks - jogging
6 weeks - everything

Result

12 weeks until final result
scars continue to improve over 18 months
EAR CORRECTION FEES
| | |
| --- | --- |
| Prominent Ear Correction (Pinnaplasty) | From £3,700 |
Arrange Your Ear Correction Appointment!
OTOPLASTY INFORMED CONSENT FORM
PROMINENT EAR CORRECTION
POST-OPERATIVE INSTRUCTIONS
Instructions on discharge
The pressure garment needs to be worn day and night until the dressing clinic at about 1 week.
All dressings to be kept dry until further instructed.
TED stockings to be worn for 2 weeks.
Discharge with standard painkillers.
Wounds will be checked at the dressing clinic usually around a week after surgery.
All sutures are dissolvable unless otherwiseinformed.
No restrictions but avoid strenuous activities for the first 2 weeks.
Sleep with head slightly elevated on a few pillows for the first week and avoid bending head down.
Moisturise scar for 3 months.
Head band to be worn around the ears at night for 1 month.
IF YOU EXPERIENCE ANY PROBLEMS OR HAVE ANY QUERIES FOLLOWING YOUR SURGERY PLEASE DO NOT HESITATE TO CONTACT THE WARD.
What our Patients say
Prominent Ear Correction Testimonials
"I have always hated my big ears! Even as a child I would walk with my head down in the wind, I would always get up earlier than my friends..."
L. B.
"Dear Mrs Kat, Thank you! I would like to thank you so much as I am very happy with the outcome from all of my procedures..."
T. K.
"Thank you for all your hard work and time into getting my ears perfect. I'm very grateful and so glad that I went ahead..."
C. F.
"I would like to express my thanks to you and the team following my recent ear operation. I am really pleased..."
K. S.
Before / After Pictures
Ear Correction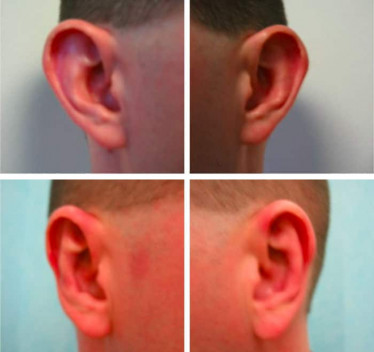 25-34 year old man treated with Ear Surgery